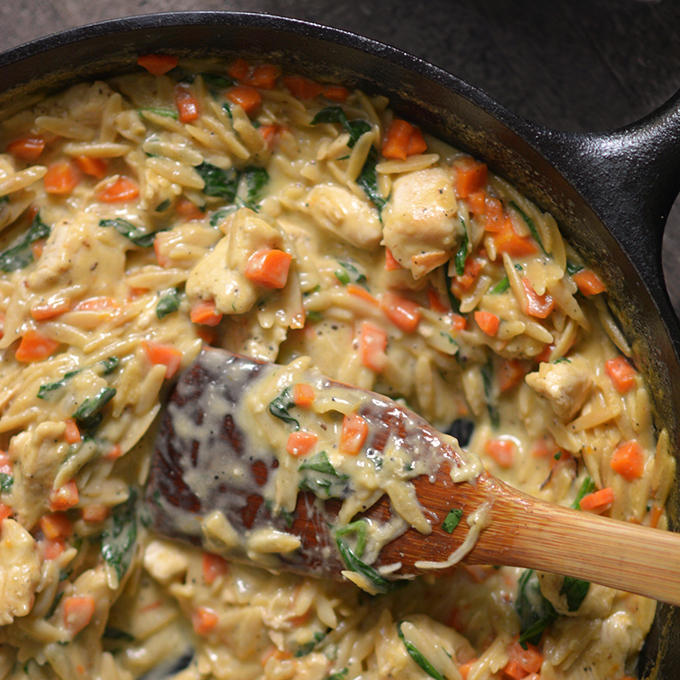 Recipe type: Entrees
Cuisine: American
Serves: 4 servings
INGREDIENTS
1 lb cubed boneless chicken breast
2 Tbsp olive oil evenly divided
¾ C diced sweet onion
1½ C finely diced carrot
4 cloves minced garlic
1 Tbsp butter
1 Tbsp flour
2½ C chicken broth
1 C milk
1 C orzo*
2 C roughly chopped baby spinach
salt and pepper to taste
¼ C grated parmesan cheese
½ C grated sharp white cheddar cheese
INSTRUCTIONS
Trim excess fat from the chicken breast, cut into bite-sized pieces, and then pat dry with a paper towel. Season with salt and pepper to taste. Heat 1 Tbsp of olive oil in a large skillet over medium-high heat. Once heated, add the chicken and cook for 6-8 minutes or until it is cooked through. Transfer the chicken into a bowl and set aside.
Reduce the pan to medium heat and add another tablespoon of oil to the skillet. Sauté the sweet onion and the carrot for about 3 minutes or until they begin to soften. Add the garlic to the skillet and cook one more minute. Season with salt and pepper to taste.
Add 1 Tbsp of butter to the skillet with the vegetables and cook until melted. Next add 1 Tbsp of flour and cook for 1 minute, stirring to evenly combine. Once the flour is cooked, slowly add in the chicken stock while constantly stirring to evenly incorporate it with the flour while avoiding lumps.
Next pour in the milk and add the orzo. Turn the heat up to high and bring to a boil and then reduce to a rapid simmer. Cook for about 5-7 minutes*, stirring every couple of minutes to prevent sticking. Cook until the pasta is al dente or to your desired softness. If the orzo begins to dry out before it is cooked through add an additional ⅛ C of chicken broth to the pan as needed.
Add the chicken back into the pan and also add the chopped baby spinach and cook for 1 more minute.
Lastly stir in the grated cheese and season with salt and pepper to taste. Serve immediately.
NOTES
*I have whole wheat orzo pictured here, which requires an additional ½ C of chicken broth and a cooking time of 9-11 minutes.
https://simpleseasonal.com/recipes/meat-eggs-dairy/cheese/creamy-one-pot-chicken-carrot-and-spinach-orzo